86320987702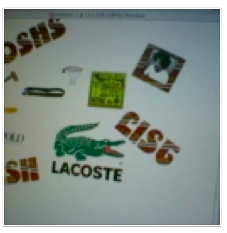 User images or avatars on OSX are a weird thing. It's buggy, the form hasn't changed for years and there's the special feature that allows you to never delete a photo. Today, I decided to clear out the cache. Introducing 'Joshs List', my earliest known digital design work, in all its glory.
It's dated November 18, 2004, which is about 9 ½ years a go. I was just about to turn 15 and finish Year 9 for the summer. 
It appears to be a 'mood board' I've made for myself in Adobe Illustrator. Or is it a christmas wish list, it's hard to say, as the line between material possessions and personal branding is blurred. I can identify Ernie Ball guitar strings, luxury brands Lacoste and Polo and a bold typographic experiment involving Enliven and a tartan pattern swatch. There's a tasteful black and white portrait of the artist, framed in aforementioned tartan. And everything is on an angle. 
As someone more visually inclined, finding something like this is like discovering a 40 page diary entry from the same time period. It says a lot, and it's not easy to stare directly at!
---
---
Date
May 20, 2014
---
---